Join the ISEP community for constructive conversations on moving forward together during COVID-19! Featuring panels, training sessions, and a virtual open house, the ISEP Coordinator Workshop provides a time for us to learn from each other, connect on our shared successes and challenges, and build deeper partnerships.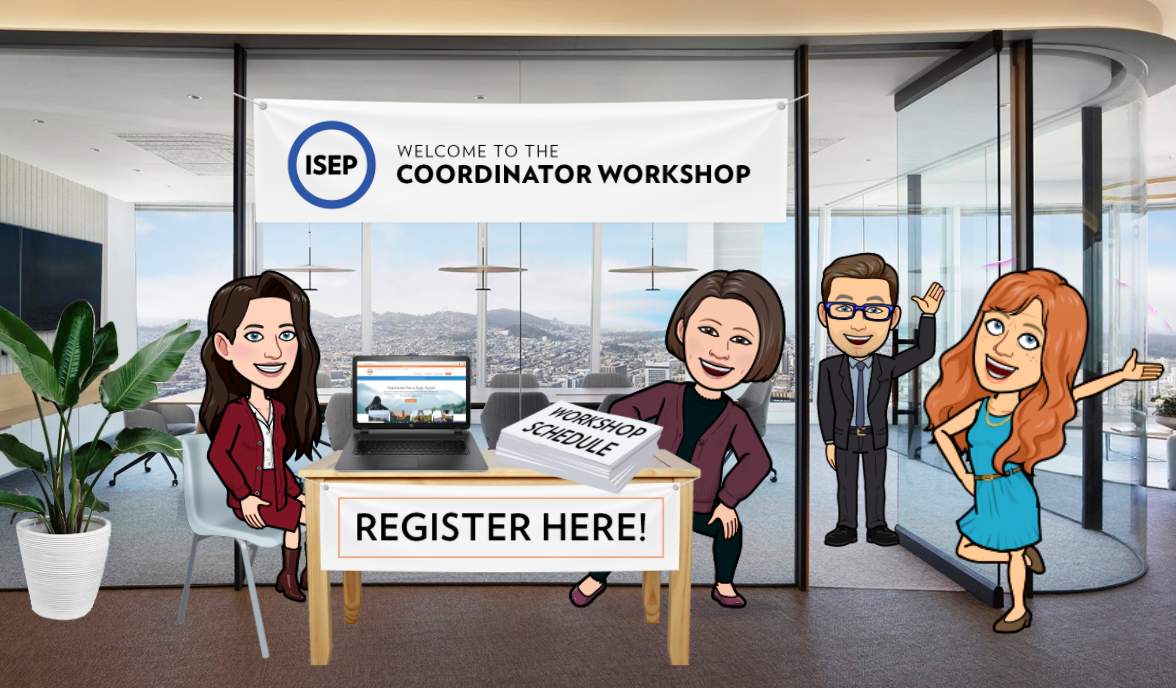 REGISTER FOR THE WORKSHOP
There is no cost to attend for ISEP Members & Affiliates.
WORKSHOP SCHEDULE
Detailed agenda coming soon!
TUESDAY, NOVEMBER 17
11 AM EST| 16:00 UTC
Alternative: 9 PM EST | 2:00 UTC
ISEP Coordinator Training
Ideal for both new coordinators and those seeking a refresher, this session will go over the basics of the ISEP student journey and prepare you to masterfully navigate the ISEP website and review student applications in the ISEP Portal. Experienced ISEP Coordinators will join the session to answer your questions and share their tips for advising students on ISEP programs.
WEDNESDAY, NOVEMBER 18
10 AM EST | 15:00 UTC
Our Shared Commitment: Global Perspectives on Welcoming ISEP Students to Our Campuses
In this session ISEP members from around the world will share their best practices for hosting ISEP students and supporting the student experience.
11 AM EST | 16:00 UTC
Mobilizing & Supporting Under-Represented Students
Moderated by ISEP President & CEO John Lucas, Ph.D., in this panel you will hear from ISEP institutions about how they are working on inclusive practices to mobilize underrepresented students and diversify their campuses.
1 PM EST | 18:00 UTC
Moving Forward: Health & Safety Lessons from COVID-19
What have we learned during a global pandemic? ISEP Health & Safety Taskforce Chair Zach Tobin will review the ISEP response, and how lessons from this year are guiding ISEP now. Select ISEP members will also share their stories and response from 2020.
3 PM EST | 20:00 UTC
Reframing Student Expectations: Using the ISEP Model to Decolonize Study Abroad
The ISEP model offers students an authentic experience—but they aren't always fully prepared to live like a local. In this session, we will explore how we can set realistic student expectations that will enable the ISEP model to successfully mobilize students from underserved institutions.
THURSDAY, NOVEMBER 19
10 AM - 5 PM EST | 15:00 - 22:00 UTC
Alternative: 10 PM EST | 3:00 UTC
Regional Open Houses & ISEP Community Events
During the virtual open houses, you can stop by to learn more about programs and universities in each region. University Relations Managers will be available to answer questions and share resources, and guest ISEP host institutions will join to talk about their programs. Final schedule coming soon.