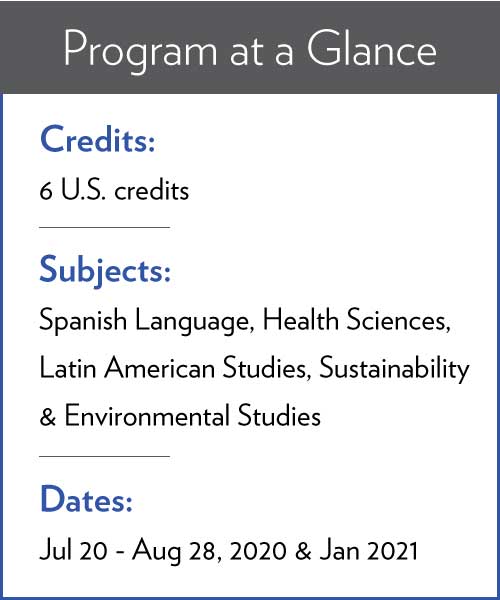 With over twenty years of experience in international education, the International Center for Development Studies (ICDS), based in San José, Costa Rica, provides quality study abroad programs with a focus on sustainability, social justice, and health and has re-designed their summer programs for online learning.
Focus on the Spanish language while learning about health or sustainable development through virtual platforms with local perspectives from San José, Costa Rica, including an optional one-week experiential component in January 2021.
Students' understanding of the course themes are enhanced through the ongoing, dynamic experience of cultural immersion. Through their program, ICDS provides opportunities for students to explore and interact with unique aspects of Costa Rican culture.
Course Information
Students will enroll in two courses (6 U.S. credits) during their six-week program:
Spanish and Health in Latin America track:
ICDS, in coordination with Hospital Clínica Bíblica and Universidad Latina de Costa Rica, offers students the opportunity to explore health care in a developing country while improving their Spanish speaking skills. This track gives students the necessary language proficiency to work and interact with Spanish speaking patients, their families, as well as future colleagues. The course will provide students with concepts and updated material that will prepare them to investigate issues related to people, places, and politics to assess the delivery and quality of health care in Latin America.
Health Care in Latin America: This course is intended to create a unique interdisciplinary professional experience for students interested in Latin American and Caribbean health issues. Within the field of public and private health, its particular focus is on public health assessment strategies. Students will be exposed to current challenges facing Latin America and the Caribbean to reach an understanding of the way global public health issues unfold in the region. Syllabus
Spanish for Health Sciences (Intermediate): This is a Spanish course for specific purposes, designed for health personnel. The objective is to provide the student with the necessary tools to acquire the linguistic competence that allows for communication with Spanish-speaking patients and their respective families. Syllabus
Business and Sustainable Development in Latin America track:
This program provides students with the opportunity to improve their Spanish language skills while studying different business strategies and public-private schemes that contribute to sustainable development in Latin America. Through lectures, group meetings and presentations by guest speakers, participants explore business strategies aimed at exercising corporate responsibility through actions that contribute to the sustainable development of the local community.
Corporate Social Responsibility & Sustainable Development: This course focuses on the study of business strategies aimed at controlling and reducing the impacts of external factors generated by a firm, as well as exercising corporate responsibility. The contents included in the course represent valuable experiences that illustrate the way in which businesses from different sectors, individually or through alliances for development, achieve a competitive differentiation while contributing to sustainability and equity in Latin America. Syllabus
Business Spanish (Intermediate): The main objective of the course is for the student to become competent in grammatical aspects of Spanish required for use in professional fields. The course will present essential terminology for studying the business environment in Latin America as well as the economic and cultural aspects that influence the sector. Syllabus
Optional One-week On-site Component in Costa Rica
Each track has an optional, week-long experiential component on-site in Costa Rica to complement the online course work, which will take place in January 2021.
View the tentative itineraries
Other Academic Conditions
Students will be asked to select one of the available tracks (2 courses) in the application to avoid scheduling conflicts.
If students are only interested in taking one course (3 credits), contact ISEP Student Advisor Maggie Montgomery at mmontgomery[AT]isep.org.
Dates
July 20 – August 28, 2020.
Completed applications are due by June 15.
Optional in-person component will take place in January 2021.
Pricing
| Program Type | 3 credits | 6 credits |
| --- | --- | --- |
| Online-only | US$2,300 | US$4,000 |
| Online + On-site | US$4,100 | US$5,800 |
---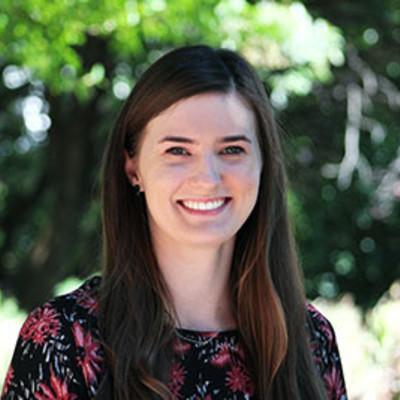 Learn more
For questions or more information, please contact ISEP Student Advisor Maggie Montgomery at mmontgomery[AT]isep.org.