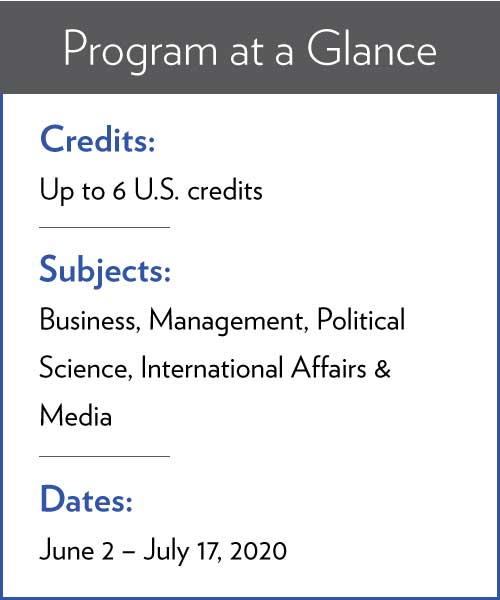 Vesalius College's "Focus on Europe" Summer Session will now be uniquely offered online!
Based on it's location in the heart of the European community, Vesalius College targets business, communications and public affairs, which are highly relevant in local sectors.
The Vesalius College Summer Program consists of courses in the fields of business, communications and international affairs, with a strong focus on Europe.
Based on its location in Brussels, the heart of the European community, Vesalius College has targeted the three disciplines most relevant to the expertise available in the local academic and professional sectors. The Business program thrives on the knowledge of professors and guest lecturers with experience in the headquarters of large multinational corporations. The Communications program has its fingers on the pulse of the latest in international communication by virtue of Brussels being the home of the world's largest press corps. As the home of NATO and heart of the European Union, Brussels feeds the International Affairs curriculum with the most knowledgeable experts in the field of public policy and European studies.
Course Information
All courses are taught in English.
Summer Session students enroll in a maximum of 12 ECTS (6 U.S. credits).
Course List:
Performance Management
Business models and Leadership in times of Transition
Video Production: Theory and Practice
Western Democracy in Crisis: Post-truth Politics and the Rise of Populism
The EU's Approach to Democratisation and Human Rights
Read more about each course in the full list of course offerings for Summer 2020.
Other Academic Conditions
There is an additional internal application and deadline for the Vesalius Internship Program. Interested students should contact Jolene as soon as possible to learn about the partners able to offer remote internships for summer, and must submit all application materials to Vesalius College by May 8.
Dates
June 2 – July 17, 2020.
Completed applications are due by May 22, 2020.
Pricing
| 3 credits | 6 credits |
| --- | --- |
| US$2,450 | US$4,250 |
---
Learn more
For questions or more information, please contact ISEP Student Advisor Jolene at jbechtel[AT]isep.org.