Janean studied abroad with ISEP at the University of Sunderland in the Fall of 2012. She is currently finishing her Psychology degree at the University of Regina. We talked with her about her ISEP experience and how it impacted her current path.
Featured Alum: Janean Lowenberger
Why did you decide to study abroad?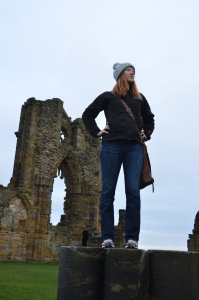 I decided to study abroad for several reasons. Perhaps most importantly I wanted a chance to take classes that weren't offered regularly at my home institution. Also equally important to my decision to go abroad is that I had always wanted to travel to the United Kingdom. Since I was a young girl, I had this obsession with traveling there. If you had asked me prior to exchange where I wanted to travel in the world, I would have only told you one place: the United Kingdom. I had started traveling at a very young age with my family (I actually learned how to tie my shoes in a car!) so I didn't have any insecurities or aversions to going while also working toward my university degree. (If you ask me now where I want to travel, I want to go everywhere at least twice!)
Did you get the chance to travel much during your semester at the University of Sunderland?
I had many opportunities to travel during my semester at the University of Sunderland. The university was extremely accommodating for me as an exchange student, or perhaps I lucked out with my class schedule, that all my courses took place on two days of the week. This left me with five days of the week to travel– as long as my school work was finished! I took advantage of this set up by exploring England in more depth than I ever thought possible. I don't quite consider myself an expert, but I have visited an amazing number of quaint, remote towns.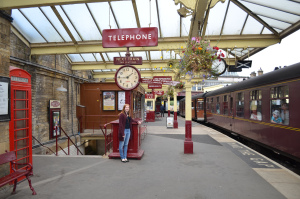 What did you most enjoy about your time abroad?
What I enjoyed most about my time abroad was the opportunity to make so many international friends. I was fortunate to be housed in a complex where all of us got along really well. We became like a family, and I am still very close with the majority of those people today. It's an amazing feeling knowing that I can travel to almost any part of the world and have a really good friend nearby that I can see.
What are you currently working on?
My current work is twofold. Firstly, I am finishing my Bachelor of Arts degree in Honours Psychology. Second, I am working at the International Office at my home university. I am currently the administrative assistant to the study abroad coordinator. This means that I get to work with exchange students, just like I was in Sunderland, every single day! It's a very rewarding work, knowing that I get to help students who are coming to a new place in a very similar way that I once was.
How do you think your international experience translated into real world skills?
My international experience has translated into real world skills in many different ways. I have found that having a diverse education portfolio, even if it is just a semester or two abroad, really shows how flexible and adaptable you are to a future employer. Picking yourself up from the comforts of home to attend a higher institution of learning is no small feat– it takes courage, strength, and an open mind to new experiences and opportunities. My international experience also helped me to learn more about different cultures of the world, as well as to my polish my skills at how to respectfully and efficiently communicate with people from different cultures. I have since taken an extreme interest in learning a foreign language as well, something I work at daily to improve.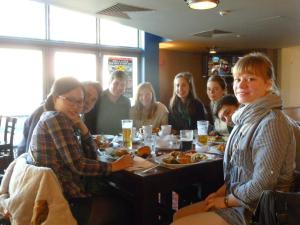 How was your path influenced by your semester abroad?
My path was influenced by my semester abroad in two different ways, academically and professionally. Academically speaking, by being able to take courses that weren't offered at my home university, I was able to say with certainty what academic program I wanted to pursue. Prior to my exchange experience I was torn between two different, yet distinct areas of my disciple of study which were not mutually compatible. Professionally speaking, I was greatly impacted by the experiences I had on exchange, and I wanted to give back, whether through ISEP or through my home university. I had the opportunity to submit photos through ISEP's photo contests, as well as to present my experiences to other students at my university. After one such presentation, I met with the lady who had originally sent me on exchange. I was so happy giving back and talking about my adventures that I took a chance and asked if there was any opportunity to help out directly with the Study Abroad Office. Looking back on that time, it seems that the stars really did line up for me. I began as a student assistant, and have worked up to know being the assistant to the study abroad coordinator. While I do still have my academic aspirations, I am absolutely thrilled to be where I am now; working at this particular type of job never would have occurred to me had I not gone on exchange and come back to share my story with anyone who would listen.
I am so grateful, to the ISEP program, to my home university, and to the University of Sunderland, for the opportunities that I have had through their programs. It is an experience that I value very highly, for academic, professional, and personal reasons. It really was a life changing experience.
Like this Story? Also like us on Facebook.