Blog
Study in France: Course Descriptions, Finding Courses, Credit Translations & Grades
January 27, 2017
Let me start by answering the most common question I've received since starting my job as Program Officer for France: Can you send me a list of course descriptions for regular university courses in French? The most common answer is – No, I cannot. That's not because I don't want to. I'd love to make everyone's life easier! Unfortunately, course descriptions for courses not designed for study abroad students simply do not exist. Why is that? The French university system doesn't need them. Unlike here in the U.S., French students cannot choose from a wide range of courses based on descriptions. Students must take a set list, so they don't need descriptions. While this is part of the experience and part of the French system, some universities may have descriptions available for courses taught in English.
How do I get my courses approved? You have to wait until you arrive on campus to register. But here is the good news: also unlike the United States, courses in France will not fill up. You can test out the class the first week or so, see if it's a fit for your major, and fully commit only once you know that you can have this course approved by your home university. Make sure you accomplish this before the add/drop period ends.
For those students taking a Language & Culture Program – these courses are designed for international students, so you should be able to find full descriptions for the program. Visit the program pages on the ISEP website and browse the various links we have provided. If you cannot find what you are looking for, email me!
Finding Course Lists
The first step in finding course lists and navigating the French websites is to understand the jargon and the university system. Here are a couple of quick tips:
Look for the word 'Formations' or 'Offre de Formations.' This will be where you go to find fields of study, departments and more.
From there, you might find 'Nos Domaines Disciplinaires' or simply 'Licences' or 'Licences Professionnelles.'
You should find the 'Licences' or specific 'Domaines' lists such as 'Arts, Lettres, Langues'
From there, you should be able to click on the various years to find what are offered each semester. You might also look for 'Liste des Enseignements' for course lists.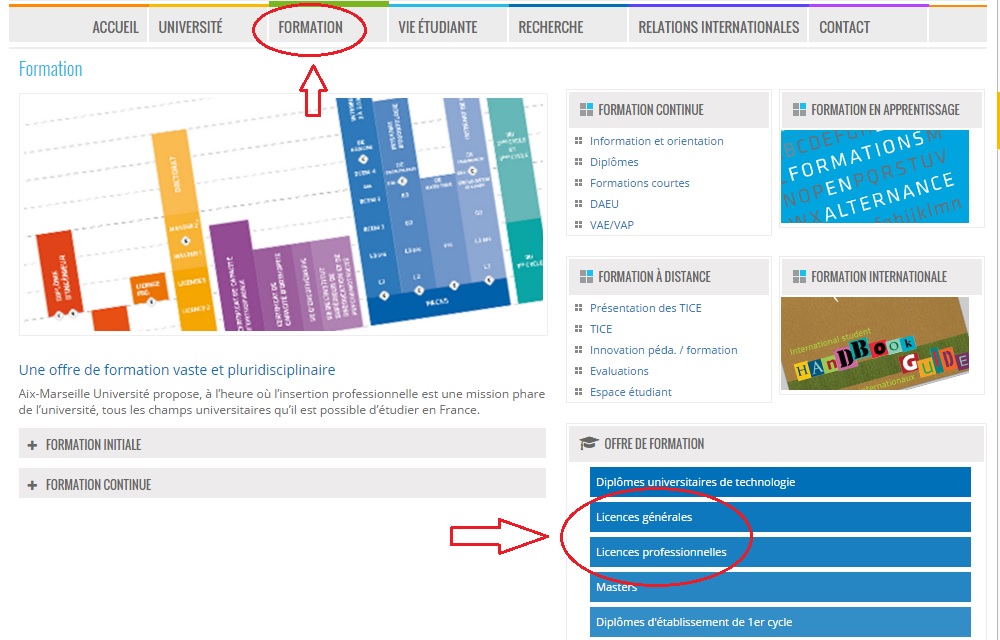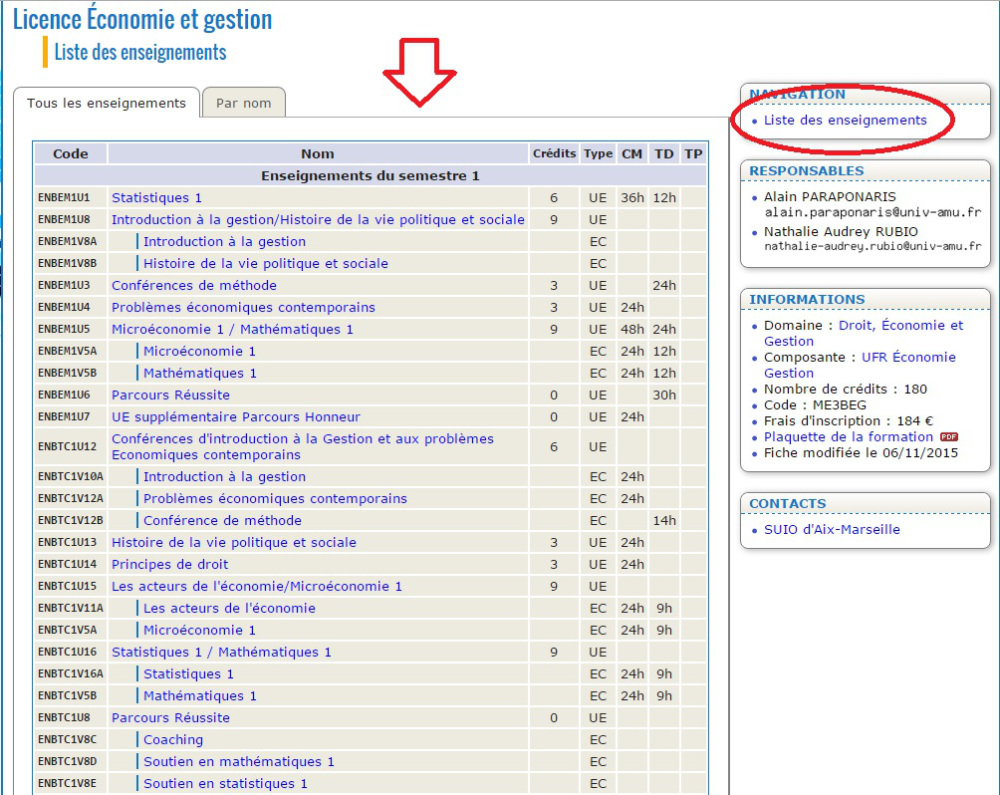 Understanding the system
Undergraduate programs in France are typically three years and are called 'Licences.' Each year is described as 'L1,' 'L2,' or L3.' From there, semesters are also broken down:
After the 'Licences' comes the masters in the fourth year. Students can do M1 (fourth year masters) or M2 (fifth year masters).
For most ISEP programs, both M1 and M2 are open to ISEP students, as long as students meet the prerequisites for the courses. Programs will often be more flexible for international students. Keep in mind, we only recommend that students take masters courses in English or have at least a B2 French level for regular university courses in French at the masters level.
When searching for courses on the websites, make sure that the semester matches the semester that you plan to study abroad. Odd numbered semesters are fall courses while even numbered semesters are spring courses.
Credit Translation
Students taking regular university courses in French or English will earn ECTS credits. As a general rule of thumb, ISEP recommends a 2:1 ratio, so if you take 30 ECTS credits, you will earn 15 U.S. credits.
Another way to translate credits is to use contact hours. ISEP recommends that 15 contact hours equals 1 U.S. credit hour. Therefore, a course offering 45 contact hours for the semester will be equal to 3 U.S. credit hours.
Students taking a Language & Culture program may not earn ECTS credits. Therefore, we recommend that the contact hours conversion method be used, where 15 contact hours equals 1 U.S. credit.
Grading
For all programs in France, grading scales are out of 20. It's nearly impossible for a student to earn above an 18, so ISEP recommends the following conversion:
French Grade U.S. Equivalent 14-20 A 12-13 B+/A- 10-11 B-/B 8-9 C 7-7.9 D Below 7 F
Students taking Language & Culture programs have expressed initial confusion over how classes will be broken down and how grades will be divided for a set program. Here is what a transcript from a Language & Culture program might look like:

As you can see, the set program is broken down into five classes where each class has designated contact hours. If using the contact hour method, this student would earn about 13 credits for the semester.
While I can offer guidelines, it's important that all students discuss credit conversion with their home university study advisors. Home universities are ultimately the ones who determine credit conversion.
For questions regarding credits, grading, course lists and more, feel free to reach out to me via email or Facebook!
Like this Story? Also like us on Facebook.