Merry Christmas to all! At this festive time of year, we are inspired to show you what Christmas is like for our ISEP students abroad. And what better place to showcase than Estonia, which is regularly voted one of the world's best Christmas destinations, and also claims to have originated the custom of displaying a Christmas tree way back in the 15th century.
On December 1st, ISEP students studying abroad at the University of Tartu gathered in the town square for the annual Christmas tree lighting ceremony that marks the start of advent. This "countdown to Christmas" is a large part of Estonian culture, with Christmas Eve being the most important event in this celebratory time. Festivities start in early December and last through New Year's Day, when the President declares Christmas Peace in a speech to the entire country.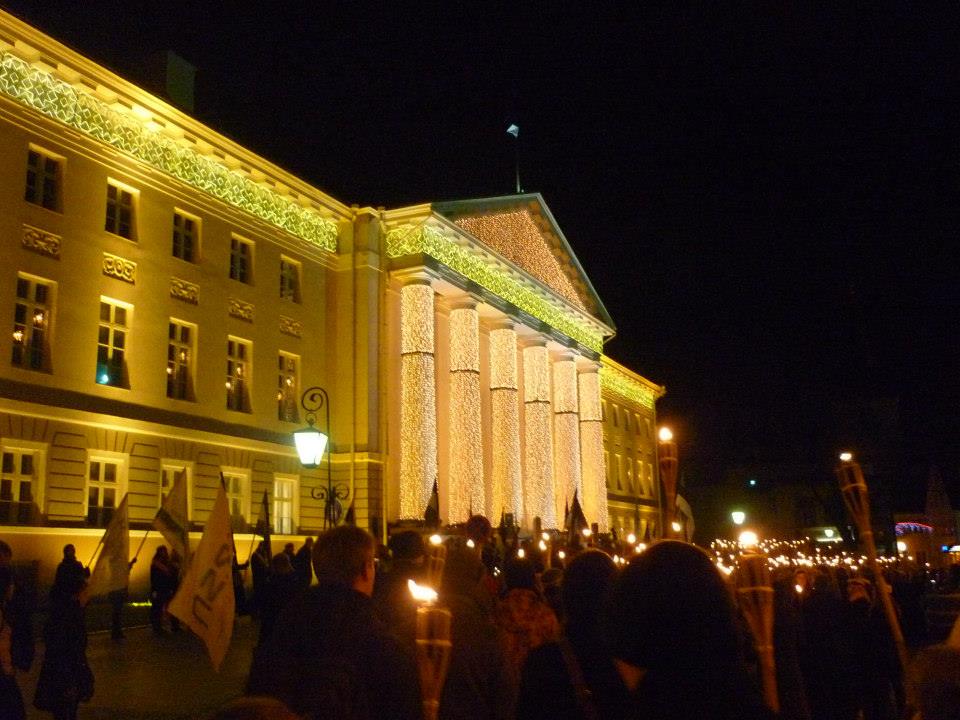 ISEP student Diamond Holloway (Arkansas State University) described the scene: "After we listened to [the mayor] give a speech, some magic happened and the lights were on. That was a moment so precious that I wish I could bottle it up. After that, we went to the main building for the university's 94th torch procession. I had no idea that in Tartu, there were so many sororities and fraternities. Each of them had their own flag and uniform. We could join as international students under the flag of Erasmus Student Network (ESN). Every single student (there were hundreds) got a torch and with our little fires we went to the main building of our university to listen to the rector and to sing Gaudeamus along with the orchestra. We were so proud that we could be a part of all the proud Tartu students!"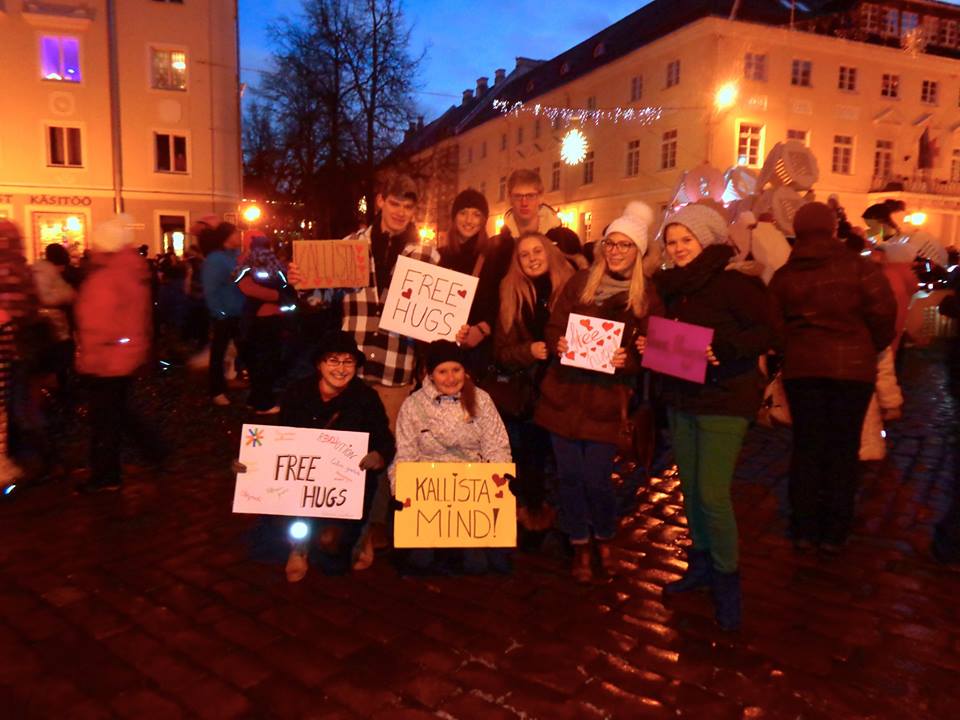 ISEP student Keegan McBride (Montana State University) participated in a "free hugs" event with other international students during the tree lighting ceremony to promote togetherness during the season of peace.
Drew Smith (Arkansas State University) commented on the sense of warmth among everyone in the square and was captivated by the impressive decorations: "Stretched from rooftop to rooftop, these blue icicle lights gave me the sense of a ceiling – adding to the feeling of stepping into a Christmas snow globe. To complete the illusion, a large, singular chandelier was suspended in the air, illuminating all."
Drew also noted that winter in Estonia introduced him to many things he hadn't experienced before: hot wine, polar bear dives, and -20 degree (F) temperatures that have created an immunity to the cold that still holds up to this day!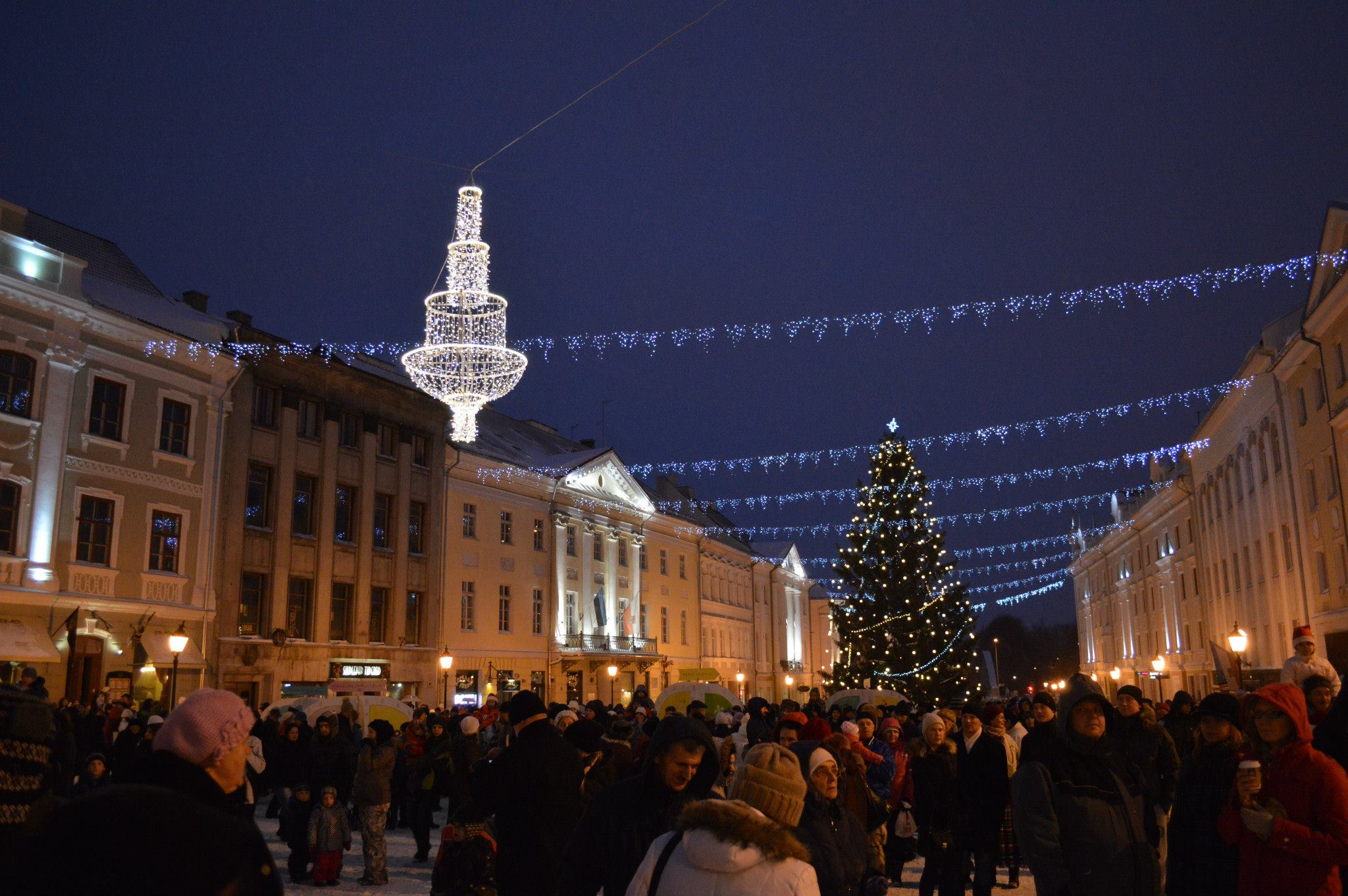 Despite the winter weather, students have enjoyed discovering many of the aspects of Estonia's holiday traditions from the hot mulled wine (called glögi in Estonian) and gingerbread cookies, to discovering the treats behind each day of their advent calendars. One thing is for sure: the welcoming warmth of the local people and of the University of Tartu is keeping students going during the holiday season.
Like this Story? Also like us on Facebook.