As we reflect on the last two years, we invite you to explore our 2020 & 2021 Review which demonstrates what the ISEP community accomplished together during the most significant crisis in our history.
HIGHLIGHTS FROM THE 2020 & 2021 ANNUAL REVIEWS
Overcoming Challenges
While 2020 and 2021 were undoubtedly some of the most challenging years in ISEP's history, we are moving forward from the COVID-19 pandemic confident in the strength and resiliency of this community. During this crisis, our community jumped into action—working creatively and resourcefully to meet the needs of ISEP students with compassion and generosity.

Keeping the ISEP Community Engaged
Throughout 2020 and 2021, ISEP focused on remaining engaged with our community. We developed virtual events for ISEP coordinators and Senior International Officers, and we integrated an Association Management System to improve our relationship-building and communication.

New Programs and Initiatives
Although the COVID-19 pandemic created a global pause in international travel, ISEP continued to grow and expand our program offerings with new partnerships, virtual opportunities, and creative solutions for students and universities. In addition, the in-house ISEP Direct Programs Taskforce began a multi-year project to re-evaluate the ISEP Direct program portfolio to better meet the needs of students, starting with our summer program offerings.

By the Numbers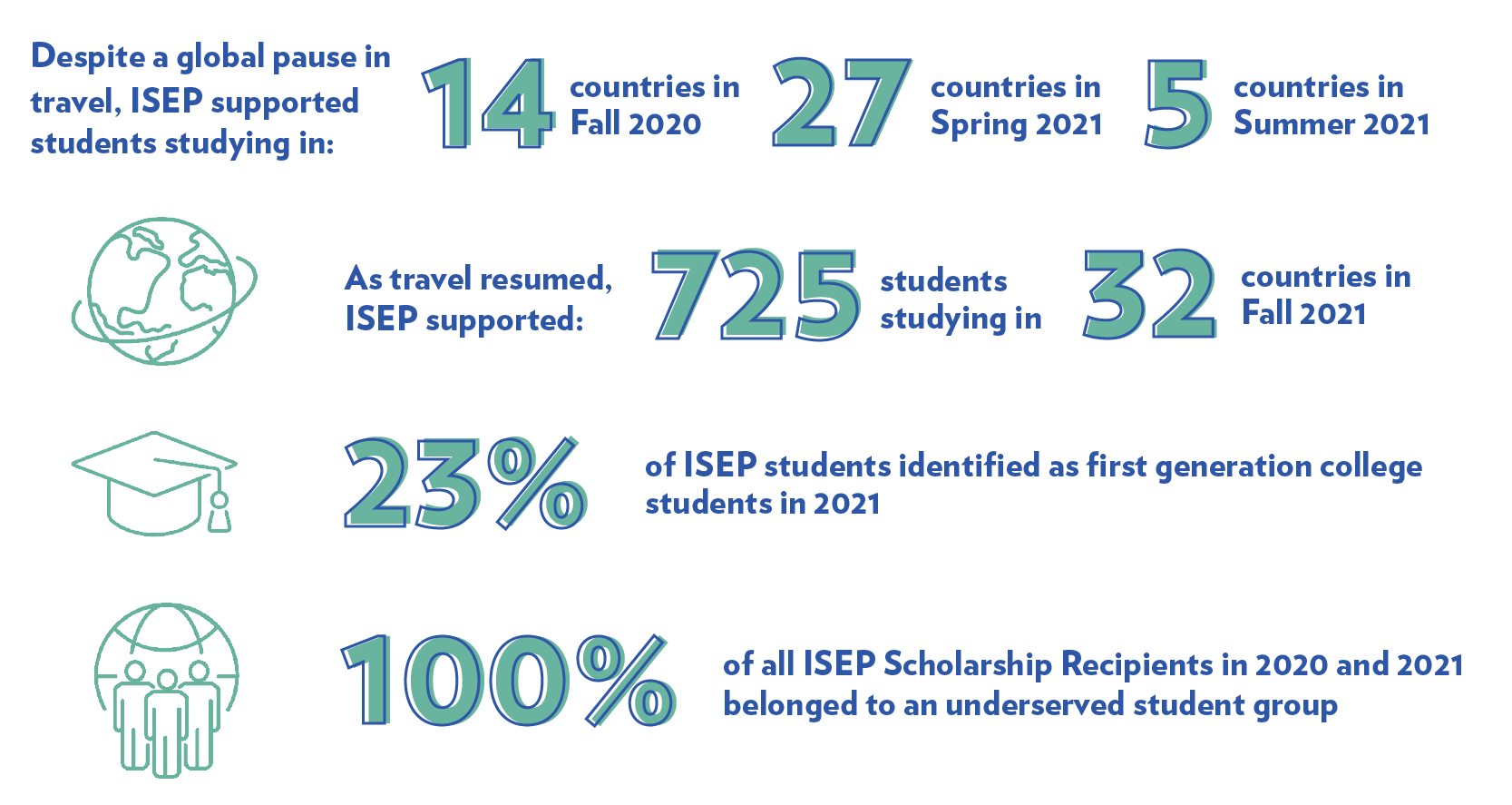 We are thankful for our members and their dedication and commitment ISEP and our values. Throughout the pandemic, ISEP has continued to lead by creating innovative mobility solutions in response to the crisis we face. As we enter 2022, ISEP as an organization and as a community remains strong. ISEP is more nimble, agile, and responsive than ever before.
Download the complete 2020 & 2021 Review.
---