Opening the Way
In 2019 our ISEP community celebrated 40 years of collaboration and partnership. Together we have mobilized over 60,000 students on immersive and authentic cross-cultural experiences, and we have grown into a global community of over 350 institutions in more than 50 countries.

Growing Our Global Member Community
As it has for 40 years, in 2019 the ISEP team made several key advances in support of our commitment to your students. We welcomed 22 new members, developed several new ISEP Exchange, Direct, Summer and Internship programs, fostered our alumni association, and cultivated new scholarship opportunities.

Expanding Opportunities
NEW PROGRAMS
This year we focused on creating access to high-demand locations. Remaining committed to offering affordable, immersive, and high-quality programs, we collaborated with leading institutions to develop ISEP Direct programs in Barcelona, London, and Kuala Lumpur. We launched ISEP Exchange programs in Sevilla, Spain, and in the foothills of the Himalayas in Northern India. We also introduced a variety of short-term summer programs in Barcelona, Costa Rica, Chile, Bali, and Mexico.

INTERNSHIPS
ISEP is committed to providing meaningful opportunities for students seeking professional experience abroad. In addition to collaborating with many of our members to expand internship options for students on campus-based programs, through our partnerships with Global Experiences and The Intern Group we have doubled the number of ISEP full-time summer or semester-long internship programs. ISEP students can now intern in one of 20 world-class cities including London, Dublin, Tokyo, Shanghai, Melbourne, Sydney, and New York City.

Shaping Global Citizens
ALUMNI NETWORK
In 2019 the number of participants in the ISEP Alumni Association grew to over 1,500 members. More than 25 alumni found employment using ISEP resources and support services. Members can take advantage of mentorship opportunities and professional development webinars. Alumni also enjoy social events and networking at gatherings organized around the world—in 2019, ISEP hosted alumni events in Seoul, Melbourne, Helsinki, and Washington, D.C.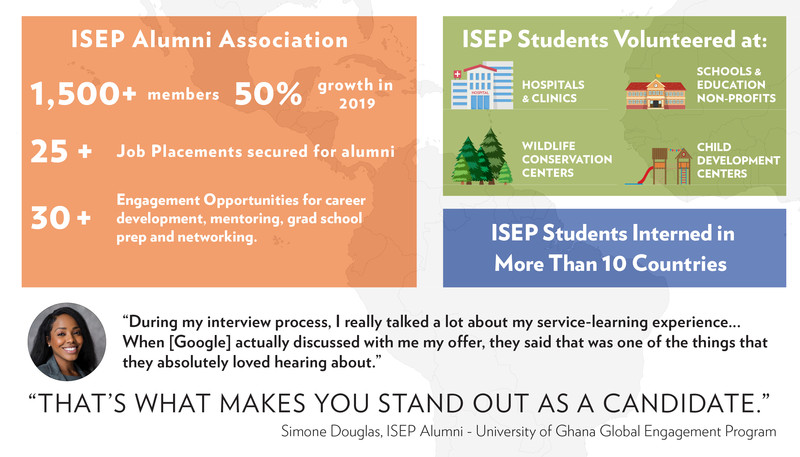 Supporting Diversity and Inclusion
As a non-profit organization, we are proud of the efforts our staff and member community have made to provide students with access to high-quality academic opportunities, exceptional program support, and affordability. Our commitment to helping students overcome financial and academic barriers to study abroad is unwavering.
We are thankful for our members and their dedication and commitment ISEP and our values. As we reflect on another great year, please enjoy our 2019 Year in Review illustrating all that we have achieved together. We look forward to another incredible year with our global community and are excited to welcome and support new members and students in the months ahead.
---