ISEP student Nell Weidenhamer from Kent State University studied abroad at Universidad de Murcia in Spain. Here she tells the story of her first trip outside Spain.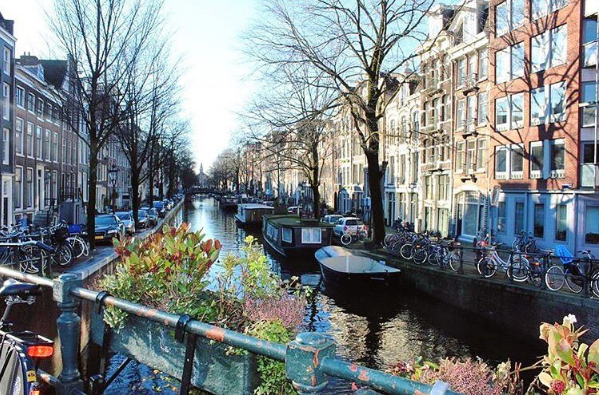 Our first trip outside of Spain was a trip to the Netherlands. The day was supposed to be surprisingly nice for Amsterdam at the time of year. Since my roommate Camila and I had never been to this city before, we figured the best way to see everything important, learn about the city and what else it had to offer was to take a walking tour. Oh, and did you see the word "free" underlined up there? Yeah, so did we, and we were pretty excited. Luckily for us, I don't think we could have had a better tour guide. Our tour guide was a fellow American from Alaska named Kendra. I recommend trying to have her as your tour guide if you ever visit Amsterdam.
One of the most interesting things I learned on the tour was that as soon as you decide you want to be a tourist in Amsterdam, you involuntarily sign yourself up for the game of the 'cyclepaths,' the huge number of people who zip around the streets on their bicycles without a care other than the determination to get to wherever they're headed. The rules? 10 points if they hit a tourist. 50 if that tourist is looking at a map. 100 if the tourist is knocked over. And an unlimited free entrance pass to the Heineken Brewery if the tourist somehow ends up in one of the canals. Their only advice for you? Don't get hit. My advice to you? Look both ways twice as often before crossing the street, no matter what direction you are used to looking from your own country. The tour included three hours of walking around to some of the most important areas and buildings in the city, and learning other facts and history - way more than I could ever remember or write about. The only possibly negative part? At the end, the tour turned out not to be completely free and you were asked to tip what it was worth to you. The guides' income is solely tip-based. All in all, I 100 percent recommend doing a tour with Sandemans if you're ever in Amsterdam - they have tours in other surrounding countries too, and tours are also offered in Spanish! I'm so glad we chose it for our first activity, and it was a great start to the trip.
Like this Story? Also like us on Facebook.