The Annette Kade Scholarship aims to get students #LivingLikeALocal through immersion and interaction in their host country's culture. Annette Kade scholarship recipients value language learning and study in either French or German while abroad. This blog shares the story of two Fall 2017 Annette Kade scholarship recipients.
Maria Ferrara currently studies at University of Kansas and studied abroad with ISEP at Université Paul Valéry (Montpellier III). Maria chose to study in France to immerse herself in the French langauge and gain fluency in order to apply for graduate school and jobs in Francophone countries.
Bernadette Becker currently studies at Indiana University-Purdue University Fort Wayne and studied abroad with ISEP at University of Zurich. Bernadette chose to study in Switzerland to connect with her family heritage, to engage with a vibrant cultures and to learn as many languages as possible.
Both of these outstanding students received Annette Kade scholarships to support their study abroad and language learning experiences. Here is what they had to say about their time abroad, learning a language and the value of this amazing scholarship.
Memorable Moments
Maria: The most memorable moment from my time abroad was a trip I took in september to visit Nice France. Nice is absolutely one of the most beautiful town's I have ever seen in my life. On the morning of the first day my friends and I visited the Marc Chagall museum where we saw a beautiful exhibit of his paintings. I got to see "Blue Circus" by Chagall which is a painting that I have admired for years. We continued to walk through the town for the rest of the day mainly following a long boulevard that runs past beautiful cathedrals and a large fountain that shoots up bursts of water from different openings to create a dynamic pattern. At the end of the boulevard we got to the famous flower market. The streets were lined with dozens of stands bearing flowers of every shape, size and color. The air smelled like flowers, fish, pasta and a hint of salt water. The smell of the sea grew stronger as we neared an arc in the wall and when we walked through it we found the beach. My friends and I took off our shoes and ran, tripping over the rocks and the sand, to put our feet in the water. That moment was a visual climax to one of the most beautiful days I've ever lived. Experiencing art, culture and beauty is incredibly important to me and I would like to thank the Annette Kade scholarship for helping me to have this beautiful experience.
Bernadette: One of the most memorable moments I had while abroad was when I was traveling in Austria with my flatmate. We went to a 500 year old restaurant and ended up sitting with an older couple. We heard them speaking German and we introduced ourselves and began a conversation. It was beautiful! We were beginners at German and the couple had some knowledge of English so we used both languages to talk about our lives and experiences. They were so kind and interested in us and our studies. We sat with them for almost two hours, but it didn't feel awkward or strange. It was a moment of connection, where four people shared a meal, knowing that this would probably be the first and last time for it. The couple was very patient with us and our attempts at German and we were patient with them as they sought to remember English words they had learned decades prior. They told us about their family and work and we told them about ours. I showed them photos of my family and they showed us photos of their children and grandchildren. This was one of my most memorable moments because I could tell how much I had grown as a person, in my ability to speak and my courage to spark a conversation with new people in a foreign tongue. I am so happy that the restaurant was crowded that day, and that we had to cross paths with those kind souls!
Obstacles, Challenges and Benefits of Studying French or German Abroad
Maria: My favorite thing about studying abroad in France was that I learned a lot of expressions that I wouldn't have learned in a university course. I think that common expressions are a really good way of learning about a culture because they tend to be analogies or metaphors that demonstrate common cultural beliefs, they are also typically very amusing. Another beautiful thing about learning a language is that you will find words and phrases that can express certain conditions or situations better than the ones in your own language. Being able to express yourself with accuracy is an incredibly important tool and finding an expression in a foreign language that permits you to do that will make you identify more strongly with that language. My time abroad made me feel really at home in France as I got to know the language but it simultaneously filled me with curiosity about other languages.
Bernadette: I have always felt that language can be either a bridge or a barrier. Thus, I have wanted to excel in any way I can in order to build bridges between myself and others. Even just having the simple niceties memorized of "danke" and "bitte" made the interactions smoother and friendlier. During my time abroad, I gained the experience of being in a limited world, before my language courses began in full swing, and then I felt the world reopen to me as I learned how to interact with the new culture and tongue. Becoming confident in my ability to do basic interactions and find my way with only German has made me feel more capable than almost anything before. When I traveled to Austria and Germany, too, I could use the new knowledge I had gained to interact with the new places. Swiss German, however, is very particular and has specific nuances that were interesting to master. I faced obstacles because I was not able to spend as much time studying German as I wished to because my required classes overlapped with the possible language courses. In order to overcome this and still engage in the language, I worked with a tandem partner for the semester. My tandem partner and now friend, spent three or more hours working with me on language each week. Since my language learning was not class based, I had to be more self-motivated with my education. Overall, my experience gave me tools to learn how to build bridges with language and I will carry that knowledge into all I do.
The Value of the Scholarship
Maria: This scholarship permitted me to have one of the most beautiful experiences of my life. I made some amazing discoveries about myself and the world and I think that this is the kind of valuable experience that every university student should have. I think that ISEP is a great program and the scholarship makes it more accessible to more students which is really important. I would just like to give a huge thank you to the Annette Kade scholarship providers: you are expanding minds and horizons and changing the lives of students and that is incredibly admirable.
Bernadette: I think that this scholarship is absolutely invaluable. Studying German has expanded my worldview and made me a more well-rounded person. I think that this scholarship has made me more dedicated in my study of German because I wanted to honor the Annette Kade Fund. Money equates to value in our world, and funding study makes education not only possible, but also more desirable.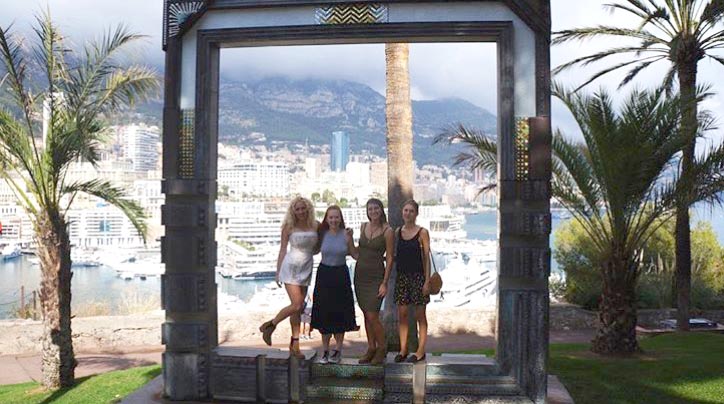 From serendipitous conversations in restaurants, to walks on the beach, to mastering new languages, both of these Annette Kade scholarship recipients grew and learned a lot during their time abroad! Study abroad truly is a once in a lifetime experience and the ISEP scholarship team is committed to making it more accessible and affordable for our students. Check out our website if you are interested in learning more or applying for the Annette Kade Scholarship.
Like this Story? Also like us on Facebook.